Shipping and Coriolis Mass flow meters
In commercial shipping, now more than ever, fuel consumption measurements are an important part of the cost-benefit analysis for making operating decisions.
Driven by emission regulations, higher-quality, low-sulphur fuels are in play and these are expensive. The MRV 757/2015 regulations require that vessels above a certain Gross tonnage (GT) need to continuously undergo verification of their CO2 footprint.
Cost-benefit data and the accurate recording of CO2 emissions have decisively changed the landscape of flow measurement technology on ships. Traditionally used volume-based measurement technology is simply no longer sufficient and the recommendation of the MRV regulations to rely on mass-based systems has driven the adoption of Coriolis mass flowmeters in their place. With the regulations in mind, it is possible to demonstrate that the higher initial cost for mass flow metering will pay off.
To aid acceptance of Coriolis flow meters, establishing their credibility and reliability in the challenging environment on board a ship is of crucial importance, so confirming their performance independently using standardised tests set by industry societies at accredited testing laboratories is very important. Upon satisfactory conclusion of these tests, Coriolis meters can be readily deployed for overall.
Fuel consumption measurements of, amongst others, main and auxiliary engines, generators and boilers.
Marine fuels are split into two main categories: Heavy fuel oils (HFO) and distillates. HFO includes other products such as LSFO, ULSFO and HSFO. Distillates are also colloquially called marine gas oil (MGO). Mixtures of HFO and distillates frequently used in practice are described as Marine Diesel (MDO) or Intermediate Fuel Oils (IFO). The term marine diesel refers primarily to blends in which the proportion of heavy fuel oil is very small.
Challenges and solutions
Can I believe the measurement results?
How high are the maintenance costs each years?
How often does a mass flow meter need to be calibrated?
What do I have to do if updates are needed for software?
Can I get service when I need it?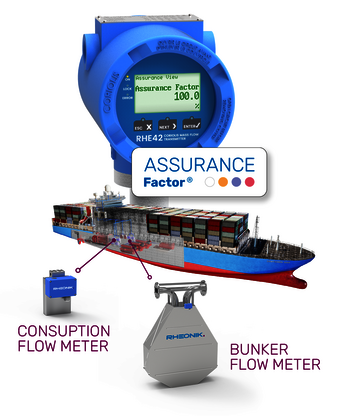 Advantages of a mass flow meter
Reproducible and verifiable measurement results. Coriolis meters are able to accurately measure mass regardless of the grade/source of fuel or the fuel temperature. Unlike many volume-based technology meters, Coriolis mass flow measurements are density and viscosity independent, making reported flow rates reliable and accurate. Only with this reliable information can ship operators successfully identify fuel consumption optimisation opportunities that will reduce operating costs.
Tank switch over: Coriolis meters are multifunctional – as well as measuring mass flow, they are also able to measure density. When considering switching from one fuel type to another during a voyage, continuous monitoring of the density of the fuel currently being consumed is a decisive indicator of when fuel switch over should be made. Density measurement also provides positive feedback when the switch over has been completed.
Accurate density measurement from a Coriolis meter allows fueling decisions to be made that contribute to operating cost savings.
It should be noted that the mass flow meter alone will not deliver cost savings. It is the accuracy and reliability of the measurements that allow for instantaneous assessment of the vessels operating cost. According to a very well-known technical director of a Greek shipping company, measures taken from there to reduce cost are key.
What questions arise for operators
Can I believe the measurement results?
The advanced diagnostics (Assurance Factor) feature of a Rheonik flow meter continuously monitors meter performance during operation, giving continuous measurement quality feedback to a connected supervisory control system (i.e. PLC or DAQ) while simultaneously indicating status via colour codes "Red, Yellow, Green" on the instrument display..
How high are the maintenance costs over the years?
Mass flow meters are low-maintenance because there are no moving parts to wear out.
How often does a mass flow meter need to be calibrated?
With no moving parts to wear, Rheonik Coriolis meters do not require periodic recalibration. Continuous monitoring and trending of the advanced diagnostics generated within the instrument can be used to identify when any change in operational performance occurs. Any change in baseline operation may be an indicator that calibration should be checked. Most Rheonik meters do not need calibration verification and checking for many years. Ideally, the device does not need to be recalibrated.
What do I have to do if updates are needed for the software?
Software updates can be uploaded in the field. It is not necessary to return the meter to the factory.
Can I get service when I need it?
Our service team is available to answer questions through our website and via email, even connect remotely to your flow meter through an internet session to assist in faultfinding wherever it is located in the world. In this way, most problems can be resolved quickly and efficiently. When necessary, we can also mobilize trained service technicians from several locations around the globe. Our service team are trained to be responsive and provide fast and efficient support for all Rheonik products.
What flow measurement challenge do you have that we can solve together?