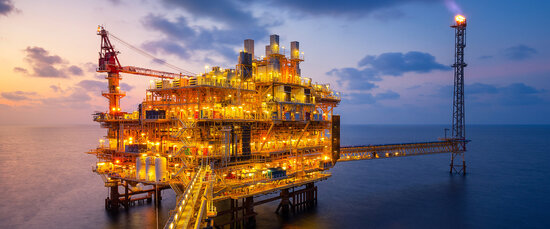 The oil and gas industry demands the highest accuracy and repeatability specifications of all industries and applications often have extreme conditions making them amongst the most challenging in the world. Whether a hydrocracker at 400 °C/300 bar, chemical injection lines at 1000 bar or a huge LPG export terminal, a Rheonik meter with robust construction, the very highest pressure/temperature ratings and custody transfer accuracy/performance is the obvious choice for any upstream, midstream or downstream flow measurement.
Crude oil
Oil/Water Separation
Produced Water
Lubricant additive blending
Isopropanol
Benzine
Kerosine
Cargo Loading
Railcar loading
Road Tanker loading
Terminal movements
Asphalt/bitumen
High pressure chemical injection
Leak detection
Wastewater chemical additives
Heavy duty wall measurement tubes
High pressure ratings
Custody transfer accuracy
No up/down straight pipe sections required
Real time multifunction flow/density/
temperature measurement
Liquid and gas measurement
Highly resistant to corrosion and abrasion
Maintenance free
High Temperature ratings
Intrinsically safe sensor suitable for zone 0
NACE conformity
Resilient to external vibration
Tolerant to aeration
No moving parts
Line sizes up to 12"
Rheonik Assurance Factor© feature, comprising meter self diagnostics online at any time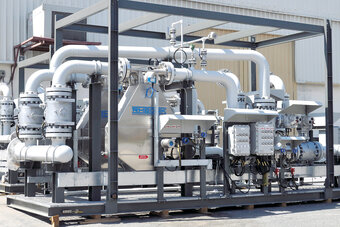 Rheonik – the partner for your oil & gas applications
Coriolis mass flow meters for chemical injection are a highly desirable solution due to minimal maintenance requirements. Rheonik manufacture the most reliable Coriolis solutions for both onshore and offshore requirements. Our mass flow meters have a small installation footprint and provide accurate and reliable flow measurement regardless of chemical type, injection rate and line pressure.
Rheonik Chemical Injection in detail
LACT ( Lease Automatic Custody Transfer units)
Rheonik flowmeters are designed to deliver accurate and repeatable flow measurement of oilfield fluids, making them perfect as components in LACT applications. Unaffected by changing density and tolerant to aeration, Rheonik meters have built in functions such as NET oil calculation to provide low cost, reliable measurements of both the quantity and quality of the crude oil passing through them. Available with custody transfer certification, Rheonik Coriolis mass flowmeters with exceptionally low maintenance requirements are a great choice for LACT skids.
Fast and precise measurement is vital for satisfactory loading and unloading of liquids deliveries between suppliers and their customers. After each transfer, both parties must be satisfied that the correct amount of product has been delivered/received. A Rheonik mass flowmeter certified for custody transfer provides both efficient measurement and ensures satisfaction between both parties to the transaction.
Rheonik mass flow meters can be used for refined products such as gasoline, diesel and gasoil as well as more industrial fluids such as heavy fuel oil, bitumen, marine gas oil and aviation fuels. This inherent flexibility of use has led to Rheonik Coriolis mass flow meters being used in many terminals and tank farms around the world for the safe and accurate transfer of all products.