RHE 45
Integral/Compact Mount
The RHE45 is an extremely compact Coriolis transmitter. The Rheonik AnyInterfaceCommitment provides a wide variety of communication options for seamless connection to control or SCADA systems. Options include Ethernet, Modbus, ProfiNet, EtherCat, PowerLink, Profibus, CAN and others.
Measures Mass Flow, Volumetric Flow, Density and Temperature
Outputs 2 x Analog, 2 x Frequency/Pulse, 2 x Digital Status
Inputs 2 x Digital
PC USB / RHECom, RS 485 / Modbus RTU, Modbus TCP, Ethernet IP, Profinet, EtherCAT, PowerLink, Profibus DP, DeviceNet and CANopen
Optional Backlit Color LCD
Rheonik Assurance Factor®
CONFIGURE
RHE 45 enclosure size: 125 x 80 x 57 mm (4.92 x 3.15 x 2.24 in)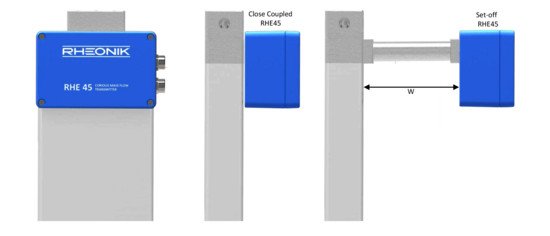 For RHM 015 to RHM 20 sensors, RHE45 transmitters are mounted either close coupled to or set-off from the sensor body depending upon temperature range selected.
For RHM 30 to RHM 160 sensors, RHE45 is always installed set-off from the sensor body.
W

mm

W

in

RHM015L to RHM04L Temperature Range N1, NA

2

0.08

RHM015L to RHM04L all other Temperature Ranges

100

3.94

RHM06L to RHM20L Temperature Range N1, NA

0

0

RHM06L to RHM20L all other Temperature Ranges

150

5.91

RHM30L to RHM160 all Temperature Ranges

150

5.91