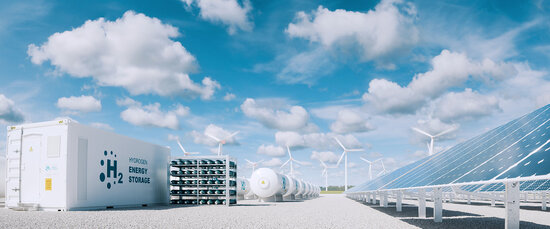 Hydrogen & Renewable Energy
More and more of our energy comes from renewable clean energy sources like solar, hydro and geothermal. As technology to harness this energy has evolved, larger scale plants taking advantage of these natural resources have been created and with them, the need for performance and efficiency measurements. Rheonik Coriolis mass flow meters play a major role in ensuring energy from renewable energy sources remains part of our day to day energy makeup.
SAE J2601 Hydrogen dispensing
Solar panel oil circulation
Turbine lubricant monitoring
Extremely high pressure ratings
Industry standard high ressure connections
Specialist materials of construction to combat embrittlement
High temperature ratings
Custody transfer accuracy
Certified according MID MI-002, OIML R 137-1&2:2012
Certified according CS OIML R139
Compact pipe footprint
Liquid and gas measurement
Maintenance free
Intrinsically safe sensor suitable for zone 0
Resilient to external vibration
No moving parts
Rheonik Assurance Factor© feature, comprising meter self diagnostics online at any time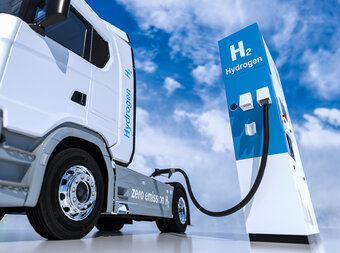 Leading in H2 mass flow measurement – since 1999
Hydrogen fueled vehicles have become a common sight in areas where investment has been made in the "hydrogen highway" to establish filling stations and fuel supply to support such vehicles on the road. America, Canada, Japan, China and many European countries have already invested large sums of money to establish a basic network of hydrogen stations supporting fuel cell cars. With many fuel cell vehicles from several manufacturers already on the road and with many more to come, the hydrogen highway will continue to be expanded to provide the capacity needed to keep them running.
Rheonik is a pioneer in the hydrogen fuel cell revolution. From the very outset, Rheonik has worked with all of the major hydrogen suppliers to produce flow meters that are both accurate and can handle the extremely high pressures associated with hydrogen distribution and dispensing.
The implementation of clean fuel technologies such as that found in hydrogen fuel cell vehicles is an increasing priority for many countries as concerns about global warming and its effect on the planet continue. Rheonik are proud of their contribution to the industry and will continue a program of improvement to provide even better solutions and performance to support these important global warming reduction initiatives.
Hydrogen is transferred to storage and into fuel cell vehicles at very high pressures, high velocities and at varying temperatures. The provision of a flow meter to measure under these conditions is not trivial as it must be both accurate, reliable and usable for end user point-of-sale billing. Rheonik Coriolis mass flow meters have proven to be, and continue to be, the most reliable meters for H2 measurement available.
Hydrogen fuel dispensers are becoming a familiar sight alongside gasoline and diesel dispensers in many filling stations around the world. Fuel cell vehicles are able to pull up, connect a hose and fill up their tanks just like vehicles using traditional petroleum based fuels. The heart of a hydrogen dispenser is the point of sale flow meter. Meters must be Weights and Measures approved, tested and sealed to ensure end customers receive the amount of hydrogen they are paying for. Sold in mass (kg), Coriolis meters are ideal for the service as they read primarily in mass and have a large measurement turndown capability that can handle the flow regime of high flow at the fill start to low flow at the end. Methods have been developed to qualify Coriolis meters for H2 service using certified weigh scales and like their petroleum counterparts, hydrogen dispensers can be certified and sealed by local Weights and Measures officials, a protection for consumers.
The vast majority of hydrogen dispensers around the world are fitted with Rheonik Coriolis mass flow meters. Dispenser manufacturers everywhere are confident that when a Rheonik meter is installed, it will provide the performance and reliability that they, their customers and the hydrogen buying public require and demand.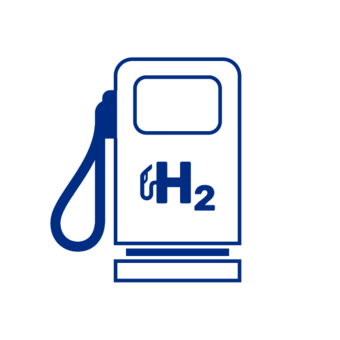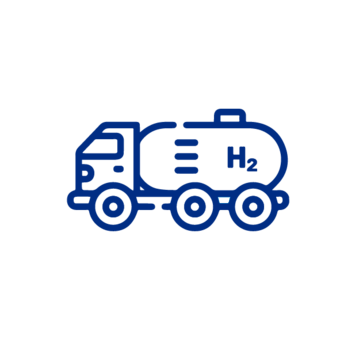 While a few filling stations have a pipeline supplying them with Hydrogen 24/7, most do not and it falls to trucks equipped with high pressure tube trailers to deliver Hydrogen to local storage at filling stations from the point of generation. The same applies for the delivery of Hydrogen to industrial customers. In order to control and account for the amount of gas being delivered, each truck is equipped with a flow meter that totalizes the amount of each gas transfer.
Rheonik Coriolis mass flow meters are fitted to tube trailers to provide records of all gas either loaded to or unloaded from the trailer. Rheonik meters are rugged and can stand up to the rigors of road transport and their compact size makes them the very best option when installing in side enclosures and housings, a real challenge for other meters that are bulky and large. Transmitters are operated directly from the truck 12Vdc battery supply, removing the need for additional power supply converters or external sources. Transmitters can also be tamperproof, sealed against unauthorized change of configuration and settings to protect the integrity of the measurement at all times.
As development in the hydrogen fuel cell industry continues, the need for proof of concept and performance testing increases. Rheonik have partnerships with major testing and standards labs around the world where Rheonik Coriolis mass flow meters are used as primary measurement devices in test equipment used for evaluation of new and better technologies.
Our partners trust Rheonik meters to give them the very best information for flowing Hydrogen streams as they investigate new components and systems from industry and regularly consult with our sensor team to ensure their measurement systems are constructed to give the very best results.